Battlefield 2042 Outage Map
The map below depicts the most recent cities worldwide where Battlefield 2042 users have reported problems and outages. If you are having an issue with Battlefield 2042, make sure to submit a report below
Loading map, please wait...
The heatmap above shows where the most recent user-submitted and social media reports are geographically clustered. The density of these reports is depicted by the color scale as shown below.
Battlefield 2042 users affected: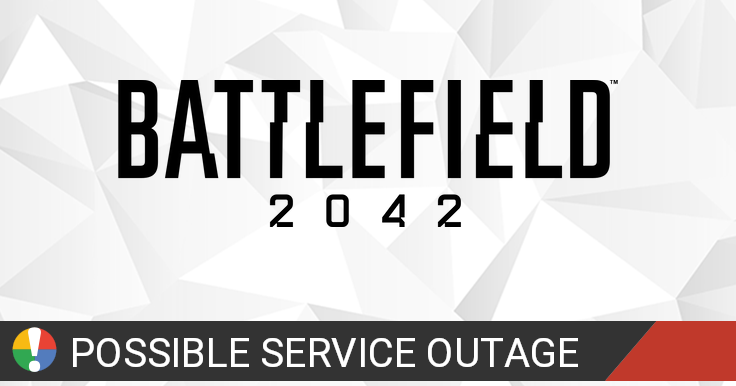 Battlefield 2042 is a multiplayer-focused first-person shooter video game developed by DICE and published by Electronic Arts. Battlefield 2042 is available for the Windows, Xbox and PlayStation platforms.
Check Current Status
Most Affected Locations
Outage reports and issues in the past 15 days originated from:
| Location | Reports |
| --- | --- |
| Merlo, BA | 5 |
| Berlin, Land Berlin | 5 |
| Nürnberg, Bavaria | 4 |
| Sydney, NSW | 4 |
| Munich, Bavaria | 3 |
| Perth, WA | 3 |
| São Paulo, SP | 3 |
| Recklinghausen, NRW | 3 |
| Glasgow, Scotland | 3 |
| Madrid, Comunidad de Madrid | 3 |
| Lausanne, VD | 3 |
| Lincoln, England | 3 |
| Kidderminster, England | 3 |
| London, England | 3 |
| Vienna, Wien | 3 |
| Köln, NRW | 3 |
| Beijing, Beijing Shi | 3 |
| Brisbane, QLD | 2 |
| Denver, CO | 2 |
| Troon, Scotland | 2 |
| Melbourne, VIC | 2 |
| Chicago, IL | 2 |
| Leeds, England | 2 |
| Dortmund, NRW | 2 |
| Toronto, ON | 2 |
| Riga, Rīga | 2 |
| The Bronx, NY | 2 |
| Istanbul, İstanbul | 2 |
| Essen, NRW | 2 |
| Padova, Veneto | 2 |
Community Discussion
Tips? Frustrations? Share them here. Useful comments include a description of the problem, city and postal code.
Beware of "support numbers" or "recovery" accounts that might be posted below. Make sure to report and downvote those comments. Avoid posting your personal information.
Battlefield 2042 Issues Reports
Latest outage, problems and issue reports in social media:
Darian

(@Darian79371421) reported

@Battlefield There are so many bugs. Can you fix them all before the offical launch

Yoake

(@Yoake002) reported

@as_kdz @Battlefield Idk if you solved this or not. If you're on PC I had the same problem in the beginning. I had to close out origin so it would restart. Then it let me play. Hope it works for you.

Just Vibes

(@AnnoyingUserNo3) reported

@beesntrees1 @JustAnLED Yeah, the launched game will probably fix the bugs but the graphics and draw distance are likely to stay the same on previous gen hardware. Battlefield 4 was the same

Dan Dyson

(@DanTom1226) reported

It's quite obvious when comparing the Battlefield 2042 playtest footage to the beta that it's the same build, so a lot of the issues that were there and have likely already been brought up will be sorted at final release in over a month.

Dylan

(@killdyl7) reported

@EA_DICE fix the movement in the new battlefield too much like cod

TheMeta__

(@TheMeta__) reported

@Battlefield This issue is happening so much I actually have to put my hand in front of my eyes and look away from my TV. It gives my entire body pins and needles. Makes me hesitant to cancel my preorder. Really hoping y'all fix this before launch, it's unbearable and dangerous

MrBoost

(@mrboost92) reported

@itsdefrag @Battlefield I think the issue with anything I say about BF2042 is I would literally suck the tit of ea. Bf is my favorite game. Outside of the last 2. They were trash

That banned Forthub.nut Guy from Instagram

(@smokedaddy3d) reported

Battlefield Players ignoring the clear major issues in the 2042 Beta is ******* hilarious, because they couldn't go a day without trashing on the Cod Vanguard Beta with its glitches. Y'all BF children are the worst fan base I've ever encountered, and am ashamed to..

Jack Jarvis

(@xXMINIJARVISXx) reported

@Darkside212272 @PartWelsh @Battlefield Also they said the game was ahead of schedule and it wasn't. They delayed BFV by a month to "fix" bugs but they didn't. They launched Battlefront 2 in a buggy mess and it still has some of them bugs now (still my favourite game), battlefield 4 didn't even work for 6 months

Nightleaf

(@NightleafTV) reported

Gun play feels a bit rough with the beta issues but im sure that will get tightened up. The vehicles actually feel really good and feel the most battlefield to me thus far.

Black Bushido PS - PMG

(@Black_BushidoPS) reported

Aside from #CallofDuty (CoD in general) cheater problems, #Battlefield still can't touch CoD.

SteelBoxGaming

(@SteelBoxGaming) reported

Anyone else having bf2042 randomly crash and turn off their @Xbox SeriesX, it's like the 3rd time this has happened, @XboxSupport @Battlefield

Anarcho_slimer #BLM

(@anarcho_slimer) reported

@Battlefield Hey @Battlefield are you gonna fix the beta so I can get passed the first menu, because thats some early alpha ****, not beta. I've already tried the dumb "fixes" and they do nothing.

Megu

(@M3guuuu) reported

@Battlefield - Well firstly, on my Xb1 X, the game won't let me press A to play - When I got the opportunity to play, the jets need a considerable amount of changes, they feel heavy, slow, unmanuverable, the cannon is useless and the teleportation issue is insufferable

Antonio Cunha

(@OKaptao) reported

They need to fix battlefield hit boxes man…..
Check Current Status