Candy Crush Outage Map
The map below depicts the most recent cities worldwide where Candy Crush users have reported problems and outages. If you are having an issue with Candy Crush, make sure to submit a report below
Loading map, please wait...
The heatmap above shows where the most recent user-submitted and social media reports are geographically clustered. The density of these reports is depicted by the color scale as shown below.
Candy Crush users affected: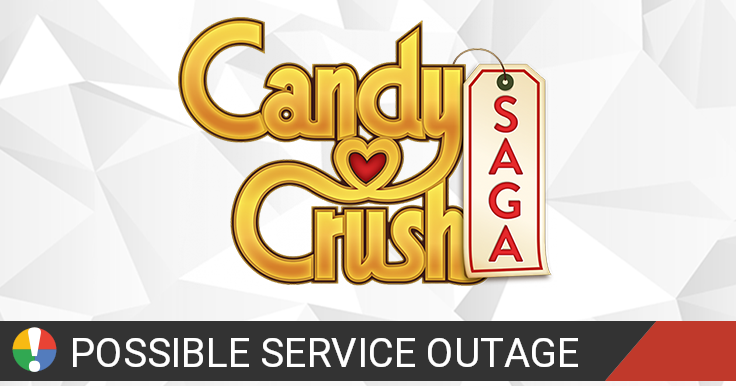 Candy Crush Saga is a free-to-play mobile match-three puzzle video game released by King on April 12, 2012, for Facebook; other versions for iOS, Android, Windows Phone, and Windows 10 followed. It is a variation on their browser game Candy Crush.
Check Current Status
Most Affected Locations
Outage reports and issues in the past 15 days originated from:
| Location | Reports |
| --- | --- |
| Rome, Lazio | 14 |
| Madrid, Comunidad de Madrid | 11 |
| Barcelona, Catalunya | 9 |
| Milan, Lombardia | 7 |
| Genoa, Liguria | 6 |
| Ogden, UT | 5 |
| Worthing, England | 5 |
| General Alvear, BA | 4 |
| São Paulo, SP | 4 |
| Punta Gorda, FL | 4 |
| Astigarraga, Euskal Autonomia Erkidegoa | 4 |
| Florence, Toscana | 4 |
| Montréal, QC | 4 |
| Itaquaquecetuba, SP | 4 |
| Liverpool, NS | 3 |
| Naples, Campania | 3 |
| London, England | 3 |
| Turin, Piemonte | 3 |
| Bourg-en-Bresse, Auvergne-Rhône-Alpes | 3 |
| Vigo, Galicia | 3 |
| La Plata, BA | 3 |
| Venice, Veneto | 3 |
| Grays, England | 3 |
| Alessandria, Piemonte | 2 |
| Bogotá, Distrito Capital de Bogotá | 2 |
| Cali, Departamento del Valle del Cauca | 2 |
| Herrera de Duero, Castilla y León | 2 |
| Liverpool, England | 2 |
| Villa Carlos Paz, CD | 2 |
| Caseros, BA | 2 |
Community Discussion
Tips? Frustrations? Share them here. Useful comments include a description of the problem, city and postal code.
Beware of "support numbers" or "recovery" accounts that might be posted below. Make sure to report and downvote those comments. Avoid posting your personal information.
Candy Crush Issues Reports
Latest outage, problems and issue reports in social media:
Megan 

(@thetechiemegan) reported

I hope Microsoft doesn't rename Candy Crush to Windows Crush or Windows Crash !

Carter Stephens

(@tailsBOOM1992) reported

@JaceyAmaris @TherealRayvilo3 Master Chief, Steve, Doomguy, Dovakhiin, Banjo-Kazooie, Crash, Spyro, Diablo and Candy Crush are all under the same roof now.

Jeff Soulliere (14-day free trial)

(@Jeff_Soulliere) reported

@gamespite Now our mission is to: 1. make Crash Bandicoot public (to the extent permitted by law) 2. Produce an original animated limited series based on Candy Crush and sell it to a streaming service 3. create derivative games based on the Call of Duty IP

Watson Junior

(@watsonmaster) reported

@klobrille King studios choose Crash Bandicoot? Candy Crush is more apropriate.

Miracle⁷

(@jimiaow7) reported

@CandyCrushSaga You keep sending the same e-mail but it's not helping at all, not solving the problem

Tyestar🔞

(@Shahintifa) reported

@YamanataVault Along with what others said, having some of the biggest properties in all of gaming that are still money makers(CoD, WoW, Freakin Candy Crush) be potentially exclusive under Microsoft is a big deal. Also Crash being owned by Xbox now is just funny.

Ayk

(@Ayk_GiGi) reported

@Microsoft They **** every franchise they have for 3 years straight and you buy that skeleton of a company. At this point only candy crush and cod are somewhat working...

Mahogany 'U-Haul ******* #2' Vince 🏳️‍🌈

(@MahoganyVince) reported

@iAmOddabellatay @Alberto9Herrera @Nibellion Microsoft will make their money back on this acquisition and then some on just Candy Crush alone, CoD is going to be exclusive to Xbox/PC going forward to try and sell more units Crash and Spyro might end up on Switch, but most likely just Xbox/PC to sell more Xbox units

Supah | Fighting Game Fanatic

(@SUPAHSAWNIK99) reported

So, Microsoft now owns: -Halo -Doom -Fallout -Call of Duty -Killer Instinct -Overwatch -Gears of War -Crash Bandicoot -World of Warcraft -Candy Crush -The Elder Scrolls -Minecraft -Banjo-Kazooie -Spyro -Hearthstone -Forza Motorsports -Battletoads ...What the hell is this company?

Wersh

(@Wersh) reported

@iiPeZR3no @Amazed__You It's like scrabble made by candy crush. You get start with a certain 'tries' to guess a word, after that I think every "day" (24 hour login) you're granted another letter. I don't have it downloaded but Ive heard about it

Frame Data

(@Faliznumber) reported

@BottlesTheMole @grantkirkhope They're showing off Candy Crush over Crash and Spyro they ain't doing ****

Rainbow Catboy

(@RainbwoGoat) reported

@Cum_Johnson It is a smart move Cause now Microsoft owns COD WoW Overwatch Crash Bandicoot Spyro Candy Crush Starcraft Now if they made anything in one of these series, Xbox and pc get it but not ps4 and switch It is a very smart way to try to make people choose xbox instead of PS5

limeyy

(@limeynotlimes) reported

WHAT THJE **** MICROSOFT OWNS CANDY CRUSH AND CRASH BANDICOOT NOW WHAT ********

Shaun *****

(@BlueHawk357) reported

@klobrille Would make more sense to have Candy Crush instead of Crash under King tbh:

💜Kyle the Unknown Eye...💜 (87 days… 🎂)

(@UnknownEyedent) reported

Well… I gotta say today's been hella crazy.. We're now living in a gaming society where Call of Duty, Overwatch, Crash Bandicoot, Spyro, Candy Crush etc are now all owned by Microsoft… 🌙..
Check Current Status