Garmin Connect Outage Map
The map below depicts the most recent cities worldwide where Garmin Connect users have reported problems and outages. If you are having an issue with Garmin Connect, make sure to submit a report below
Loading map, please wait...
The heatmap above shows where the most recent user-submitted and social media reports are geographically clustered. The density of these reports is depicted by the color scale as shown below.
Garmin Connect users affected: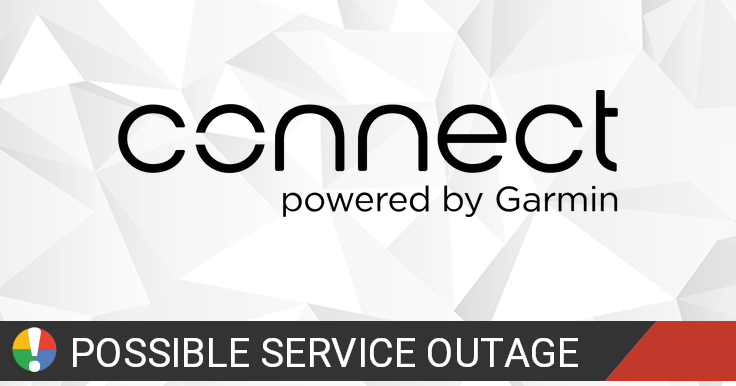 Garmin Connect is a health and fitness activity platform for users of Garmin trackers such as smartwatches, heart rate monitors and GPS devices. The Garmin Connect app is available in the Google and Apple stores.
Check Current Status
Most Affected Locations
Outage reports and issues in the past 15 days originated from:
| Location | Reports |
| --- | --- |
| Madrid, Comunidad de Madrid | 54 |
| Barcelona, Catalunya | 37 |
| Paris, Île-de-France | 32 |
| Bogotá, Distrito Capital de Bogotá | 17 |
| Mexico City, CDMX | 13 |
| London, England | 13 |
| Sevilla, Andalucía | 8 |
| Murcia, Región de Murcia | 7 |
| Brussels, Bruxelles-Capitale | 7 |
| Vienna, Wien | 7 |
| Málaga, Andalucía | 7 |
| Lyon, Auvergne-Rhône-Alpes | 7 |
| Valencia, Comunitat Valenciana | 7 |
| Rome, Lazio | 7 |
| Milan, Lombardia | 6 |
| San José, Provincia de San José | 6 |
| Montréal, QC | 6 |
| Hamburg, HH | 6 |
| Valladolid, Castilla y León | 6 |
| Santiago, Región Metropolitana | 6 |
| Marseille, Provence-Alpes-Côte d'Azur | 6 |
| Croydon, England | 5 |
| Zürich, ZH | 5 |
| Jongny, VD | 5 |
| Rio de Janeiro, RJ | 5 |
| Lausanne, VD | 5 |
| Vigo, Galicia | 5 |
| São Paulo, SP | 5 |
| Cali, Departamento del Valle del Cauca | 4 |
| Huesca, Aragon | 4 |
Community Discussion
Tips? Frustrations? Share them here. Useful comments include a description of the problem, city and postal code.
Beware of "support numbers" or "recovery" accounts that might be posted below. Make sure to report and downvote those comments. Avoid posting your personal information.
Garmin Connect Issues Reports
Latest outage, problems and issue reports in social media:
Bianca Price

(@biancalprice) reported

@GarminFitness hi, I can't update my weight manually in the Garmin connect app. When I click the add weight button I get loading wheel then the screen stays black. Anything I can do to fix this?

Paul Kellam

(@PaulKellam_2) reported

@GarminFitness any idea when you will fix updates to VO2 max and Training Status - not working since your last software update. It has been reported as an issue several times on Garmin's website but no solution from you.

Barry Mowat

(@mowatb) reported

@GarminFitness @GarminUK how lings connect down for?

भरत | Bharat | ਭਾਰਤ | بھارت

(@bindian0509) reported

@Garmin Got my vivoactive casing damaged any chance I can get a fix :-( Loved my Garmin since 2018 now it's broken. @GarminFitness @Garmin_India #Garmin

Yolanda

(@mswade41) reported

@MyFitnessPal @GarminFitness So I am logging my food wearing my vivoactive 3 counting steps and both apps sync ONLY TO THIER OWN websites and phone apps. Both say that they will work Together Sync Together 😒plz fix

CeeBee 💙

(@RunningCeeBee) reported

Have always been a huge fan of @Garmin @GarminUK @GarminFitness until today. Bought a Garmin Vivomove 3S & it stopped working in under a month of use. #Garmin will replace it but I have to pay around £10 to send the faulty watch back & I won't be reimbursed. Really poor service👎

Phil

(@pdorado_) reported

@GarminFitness please fix your forerunner 245 issues, shouldn't take 20 minutes to connect on a new model

Masked Fletch 😷

(@IMFletcher2) reported

@JoelFerebee @GarminFitness Never recognizes when I plug in to charge. Bluetooth works. Plugging in always gives an error.

FloK

(@Flokkz4) reported

@GarminFitness Very bad idea that you are not counting Zwift recorded and uploaded rides towards your batches anymore. Fenching your systems will not help you growing your community. Hope you have plans to change this asap again.

sanguinesongs

(@sanguinesongs1) reported

@GarminFitness Hello! Any info or links that help new users understand how you calculate things like Calories burned, Wattage etc? Just picked up a 530 for my bike and want to get a better understanding. Right now it's doubling the calories that other apps say I used. Thanks!

Manuel Solis

(@manny_solisp) reported

Finally transferred all my data from @Fitbit to @GarminFitness but my sleep is not showing up :( Can you help @GarminFitness?

Sina

(@sina_cb) reported

@Garmin @GarminFitness Could you please fix the Persian font on your Venu watches (and possibly others too)? All my Persian notifications are all messed up. :( It's missing a few characters, and some characters don't show up as they should.

John Henry

(@jkmhenry) reported

@GarminFitness greetings, I have a forerunner 645 and the wrist heart rate seems to be going a bit wonky of late. Anything to do to fix?

KMN🏃‍♂️

(@kashyab_19) reported

@GarminFitness Vivoactive4s is not receiving call notifications. Can you help?

Jodi

(@jodirstar) reported

@GarminFitness - My Garmin Connect isn't working.....is the site down?
Check Current Status