GoDaddy Outage Map
The map below depicts the most recent cities worldwide where GoDaddy users have reported problems and outages. If you are having an issue with GoDaddy, make sure to submit a report below
Loading map, please wait...
The heatmap above shows where the most recent user-submitted and social media reports are geographically clustered. The density of these reports is depicted by the color scale as shown below.
GoDaddy users affected: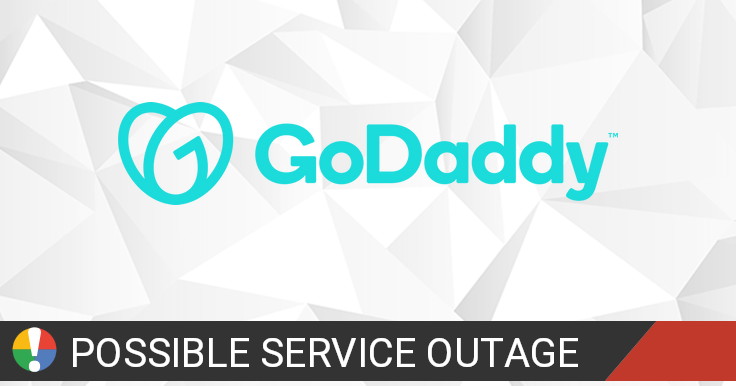 Go Daddy provides domain registration, web hosting, email hosting and virtual servers, as well as software and services related to web hosting.
Check Current Status
Most Affected Locations
Outage reports and issues in the past 15 days originated from:
| Location | Reports |
| --- | --- |
| Bengaluru, KA | 7 |
| Delhi, NCT | 6 |
| Mumbai, MH | 5 |
| Pipriac, Bretagne | 4 |
| Mexico City, CDMX | 4 |
| Apple Valley, CA | 4 |
| Chennai, TN | 3 |
| Bogotá, Distrito Capital de Bogotá | 3 |
| Quito, Provincia de Pichincha | 3 |
| Houston, TX | 2 |
| Hyderabad, TG | 2 |
| Chaumont-en-Vexin, Hauts-de-France | 2 |
| Sydney, NSW | 2 |
| João Pessoa, PB | 2 |
| Mississauga, ON | 1 |
| Beirut, Beyrouth | 1 |
| Noida, UP | 1 |
| Ahmedabad, GJ | 1 |
| Leicester, England | 1 |
| Tel Aviv, Tel Aviv District | 1 |
| Keighley, England | 1 |
| Wolverhampton, England | 1 |
| Lucknow, UP | 1 |
| Baraboo, WI | 1 |
| Gustavo Adolfo Madero, CDMX | 1 |
| Cali, Departamento del Valle del Cauca | 1 |
| Sound Beach, NY | 1 |
| Orizaba, VER | 1 |
| Kansas City, MO | 1 |
| Wilson, WY | 1 |
Community Discussion
Tips? Frustrations? Share them here. Useful comments include a description of the problem, city and postal code.
Beware of "support numbers" or "recovery" accounts that might be posted below. Make sure to report and downvote those comments. Avoid posting your personal information.
GoDaddy Issues Reports
Latest outage, problems and issue reports in social media:
Sai Srujan Palateru

(@srujan_palateru) reported

Called 5 times to customer care all the 5 times the call got disconnected. Are you agree that you are having poor tech support or you got reckless employees?? @GoDaddy - pauses your business. Instead of @GoDaddyHelp , we get regret in the last. #GoDaddy #NoToGodaddy

Emiliano Carlesi

(@ecarlesi) reported

Possible threat on hxxps://ameli-renouv-support[.]com #phishing #godaddy

Coach

(@kourtneyyoung) reported

@GoDaddyHelp I am having the worst customer service I have received in the over 15 years I've been a GoDaddy customer. I was on hold for 30+ minutes. I was on the phone with a clueless rep for another 30 minutes, then the call dropped. I called back and I have been

StopForumSpam 🇭🇰 🇺🇦

(@StopForumSpam) reported

85 year old contacts @godaddy about a lost control panel password/login, and gets the hard sell for a new domain, new hosting, and "security". $500 later... does the US not have elder protection laws?!?! disgraceful!

PatMahony

(@PatMahonyDOTcom) reported

@GoDaddyHelp Your online phone system is NOT working. It doesn't accept my pin. The hold recording - or whatever that is - is slowmo and non-functional - I was forced to use text to communicate with the help desk for product support. Not good! Please fix this very bad service.

Robert Nagby

(@RobNagby) reported

@GoDaddy Your support sucks! I have called 5 times for assistance with 365 Exchange Migration. I set it up and it DOES NOT WORK. Each call hanks up on me! Fix it or go out of business!

Raj Taneja

(@tinhead) reported

.@GoDaddy how do I get support if I'm unable to make a voice call? Your chat function doesn't seem to be working and you no longer offer email support.

Captain ⚓ Obvious

(@PinocchioPrez45) reported

I sure wish @GoDaddy never got into bed with @Microsoft. It complicated using email with domains parked at #GoDaddy and now they're doing it again...changing settings to dig in deeper with #Exchange. 🤬 Bring back simple #WebMail and allow us to avoid @Office365 please!!

L See Eff

(@TheReturnOfLCF) reported

For the record, when I say 'priced me out' I mean deliberately trebled the fee in order to make me transfer over to their 'new' builder that THEY want me to use. Doesn't matter what *I* want. Terrible business. Never ever use @GoDaddy. Tell all the people you care about.

Craig

(@craig_dw) reported

Anybody got any idea regarding website building. For instance, how would I add a chat room to a GoDaddy site? It's a site which will be streaming house music radio shows, but need to have a chat room on there for listeners to message in etc. HELP APPRECIATED 🤯

Sai Srujan Palateru

(@srujan_palateru) reported

In the past few years if I have to name one thing which is worst.Without having another thought it's @GoDaddy @GoDaddyHelp service. Worst of the worst. To rate definitely we should have a scale completely on negative side. #godaddy

Olia Nayda | eglote.com (🧱, 🚀)

(@olianayda) reported

@EthaanJack Yeah, Alexey chatting with them 4th day in a row. And they found bug in their API 🥲 but it not makes it easier. The problem is that we help to another company to improve their website performance and @GoDaddy puts us sticks in the wheels

HellCid

(@Hellcidlives) reported

@TheReturnOfLCF @GoDaddy This is the way of the world now. Greed. Without any fcuks given for customer service..

Frank S

(@FilbarRPG) reported

@GoDaddyHelp your bot sucks and email is apparently down

aaron moore 🇺🇦 🇺🇸 🌳 🚜 🎣

(@rocvette) reported

@Jitendramraval2 @GoDaddy Really surprised, usually when I call, I seem to get an idiot on the other end. @GoDaddy has been going down the toilet for the last few years.
Check Current Status