Steam Outage Map
The map below depicts the most recent cities worldwide where Steam users have reported problems and outages. If you are having an issue with Steam, make sure to submit a report below
Loading map, please wait...
The heatmap above shows where the most recent user-submitted and social media reports are geographically clustered. The density of these reports is depicted by the color scale as shown below.
Steam users affected: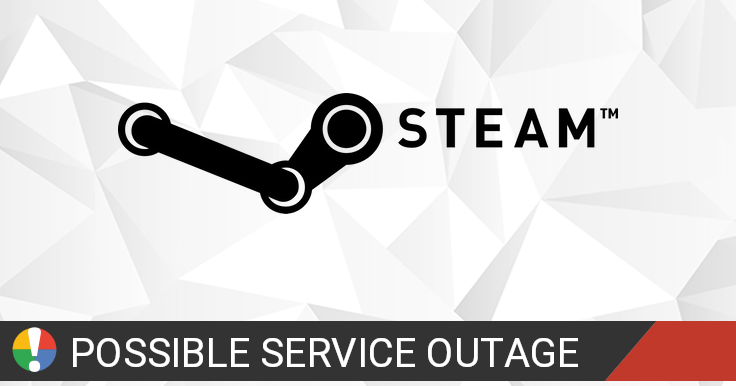 Steam is a digital distribution platform developed by Valve Corporation offering digital rights management (DRM), multiplayer gaming and social networking services. Steam provides the user with installation and automatic updating of games on multiple computers, and community features such as friends lists and groups, cloud saving, and in-game voice and chat functionality. Available on Window, Mac OS and Playstation.
Check Current Status
Most Affected Locations
Outage reports and issues in the past 15 days originated from:
| Location | Reports |
| --- | --- |
| São Paulo, SP | 13 |
| Paris, Île-de-France | 9 |
| London, England | 9 |
| Rio de Janeiro, RJ | 7 |
| Melbourne, VIC | 7 |
| Sydney, NSW | 5 |
| Munich, Bavaria | 5 |
| Madrid, Comunidad de Madrid | 4 |
| Hamburg, HH | 4 |
| Lyon, Auvergne-Rhône-Alpes | 4 |
| Brisbane, QLD | 3 |
| Glasgow, Scotland | 3 |
| Berlin, Land Berlin | 3 |
| Roubaix, Hauts-de-France | 3 |
| Porto Alegre, RS | 3 |
| Montréal, QC | 3 |
| Manchester, England | 3 |
| Dresden, Saxony | 3 |
| Villeurbanne, Auvergne-Rhône-Alpes | 3 |
| Toronto, ON | 3 |
| Brussels, Bruxelles-Capitale | 3 |
| Bogotá, Distrito Capital de Bogotá | 3 |
| Surrey, BC | 2 |
| Pune, MH | 2 |
| Vancouver, BC | 2 |
| Belo Horizonte, MG | 2 |
| Bengaluru, KA | 2 |
| Cochin, KL | 2 |
| Calgary, AB | 2 |
| Quito, Provincia de Pichincha | 2 |
Community Discussion
Tips? Frustrations? Share them here. Useful comments include a description of the problem, city and postal code.
Beware of "support numbers" or "recovery" accounts that might be posted below. Make sure to report and downvote those comments. Avoid posting your personal information.
Steam Issues Reports
Latest outage, problems and issue reports in social media:
DLM

(@DarkLightMemory) reported

@Steam I had the SAME "too many attempts" too. Just sit and wait about 20 minutes (I know it's hard) and then try again. I got the other error instead, but it stopped doing the "attempts" error. I waited one minute between each try and it did eventually go through. Good Luck!!!

Christopher Miller

(@ccmiller2018) reported

@KuroCanidae @TrashbagOpossum @Steam was it the same error? the one about being locked out?

Bradley Richards

(@Wulf0123) reported

@Steam Anyway you can use your logs to fix queue placement for all of us who just tried to pay and now got locked out for a lot of purchases

Germaine Mcbounds

(@GermaineMcboun3) reported

@Steam So if I'm new to steam I have to wait 48 hrs in order to purchase one? And I went to purchase one and it crash

OwForBreakfast

(@OwForBreakfast) reported

@Steam Ah yes. The classic locking people out of their reservation with zero explanation or a quick fix. Guess we get to wait an indeterminate amount of time and potentially get ours months later now. Thanks Volvo.

Symbiote

(@SymbioteCC) reported

@ElBurro4Moo @Steam @Steam_Support Some people have said the error code will change after trying enough times, but I'm really not sure.

Brandon Danner

(@dmusicstud) reported

@Steam Yeah, I have a few questions. Like, how were you this underprepared for your process? It's simply terrible, and a bad look for your company. Fix this

He-rnan

(@Hernanscor) reported

@Steam Can u guys fix it?

Anonymousonebestway

(@Anonymousonebe2) reported

@Steam are you ******* kidding me right now!?!?!? Got the "attempting to make too many purchases" bullshit and now the reservation button is grayed out with order availability in Q1!? It's in my cart and I can't even pay for it! I'm beyond frustrated! Fix this for us!

Jenny 🏳️‍⚧️ | @hackyscientress@chaos.social

(@HackyScientress) reported

@derchris @Steam Oh you have problems too. My account is locked out because they wrote their website so poorly that failed transaction count into the maximum # of orders per hour.

Ricky Berwick

(@rickyberwick) reported

@Riverter @Steam It's a glitch

TheShadowHatter🎩

(@TheShadowHatter) reported

@Steam You guys should have had reservations open the second you announced it. Not only would it have caught people by surprise so it wouldn't flood your servers, but you wouldn't have so many people angry that you essentially schedule a DDOS attack on yourselves to mess up this big.

DemonLady

(@CursedAdept) reported

So fun trying to pre-order the steam deck and getting 50 errors @Steam

Debatman

(@N3rdGuy) reported

@Steam Your purchase may have been completed, but there was a problem checking on the status of this transaction. Please check your account status page or your email for a confirmation receipt. annnd nothing ... jesus f. christ...

Anthony J Pratti

(@anthonyjpratti) reported

Hey @Steam can you fix your platform?
Check Current Status