Youtube Outage Map
The map below depicts the most recent cities worldwide where Youtube users have reported problems and outages. If you are having an issue with Youtube, make sure to submit a report below
Loading map, please wait...
The heatmap above shows where the most recent user-submitted and social media reports are geographically clustered. The density of these reports is depicted by the color scale as shown below.
Youtube users affected: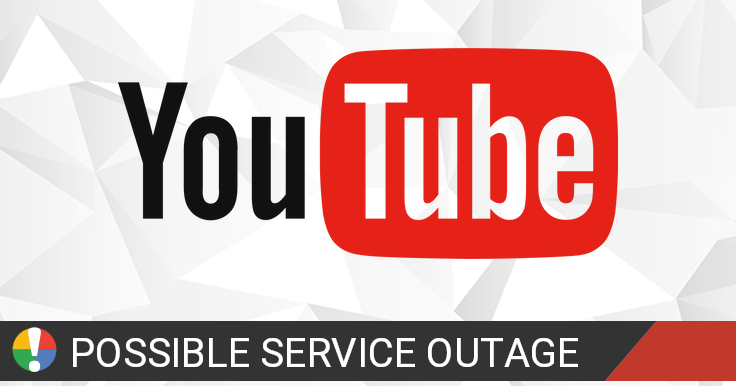 YouTube is an American video-sharing website headquartered in San Bruno, California. The service was created by three former PayPal employees—Chad Hurley, Steve Chen, and Jawed Karim—in February 2005. It is currently owned by Google.
Check Current Status
Most Affected Locations
Outage reports and issues in the past 15 days originated from:
| Location | Reports |
| --- | --- |
| London, England | 19 |
| São Paulo, SP | 17 |
| Sydney, NSW | 16 |
| Madrid, Comunidad de Madrid | 12 |
| Melbourne, VIC | 10 |
| Seattle, WA | 10 |
| Rio de Janeiro, RJ | 9 |
| Perth, WA | 8 |
| Munich, Bavaria | 8 |
| Liverpool, England | 7 |
| Mexico City, CDMX | 7 |
| Belo Horizonte, MG | 6 |
| Bogotá, Distrito Capital de Bogotá | 6 |
| Phoenix, AZ | 6 |
| Los Angeles, CA | 6 |
| Houston, TX | 6 |
| Manchester, England | 6 |
| Bengaluru, KA | 5 |
| New York City, NY | 5 |
| Birmingham, England | 5 |
| Guayaquil, Provincia del Guayas | 5 |
| Fortaleza, CE | 5 |
| Merlo, BA | 5 |
| Recife, PE | 5 |
| Alton, IL | 5 |
| San Luis Potosí, SLP | 4 |
| Glasgow, Scotland | 4 |
| Medellín, Departamento de Antioquia | 4 |
| Indianapolis, IN | 4 |
| Dallas, TX | 4 |
Community Discussion
Tips? Frustrations? Share them here. Useful comments include a description of the problem, city and postal code.
Beware of "support numbers" or "recovery" accounts that might be posted below. Make sure to report and downvote those comments. Avoid posting your personal information.
Youtube Issues Reports
Latest outage, problems and issue reports in social media:
Mc Jty

(@McJty) reported

@vdbergeraoul @YouTube Hmm? How does that work?

Zalia Lyon

(@LyonZalia) reported

@mirageLTD @YouTube You know their not going to work with no pay..their hoping we just kill each other off..horrible times we are in

Jacob Sullins

(@jacobsullins1) reported

@TmarTn Wow @YouTube you need to quit slacking and fix this.

👑

(@Makaray23) reported

@joe49us @YouTube Idk bro **** is still doing it to me sometimes it's not even this error it just freezes and closes. I know it's the game cuz I downloaded another game and played it no problems

lisafedeneva

(@lisafedeneva) reported

@YouTube @lucyedwards Bring back the dislike button. The content on your platform is wonderful but the people in charge make the platform unusable. You are doing everyone a disservice. If creators can't handle criticism, they should not be creators.

leighmixxx

(@leighmixxx) reported

@noticesammy @YouTube yo thks my notifs not working

Spookygee

(@spookygutierrez) reported

@YouTube Hos about you fix your platform first and start by fixing your awful copyright system it's kinda bad when you choose companies over your actual creators but sure remove the dislike button so companies won't see how many dislikes a video they sponsor does get your stuff together

lisafedeneva

(@lisafedeneva) reported

@YouTube @lucyedwards Bring back the dislike button. my user experience is awful now

Kailash

(@kailashganesh) reported

@KartiPC @YouTube You have spoken about an important issue happening in indian households now . Please force govt to monitor high handedness of these companies

William Asquith Farnaby

(@KevinMa04852547) reported

@sunship_trader @YouTube i think ill skip this video because unless you've got some good commentary on leaf blowers — there's nothing you can do so fix this bullshit with #MindRed

Richard Burnett

(@RBurnett348) reported

@YouTube can you please fix your flipping algorithm? Don't put in my list an account that usually shows football content but is showing recorded cinema footage of the Spider-Man film. Also, include the option of reporting copyright breaches please.

Music for Moods.

(@Lockolike) reported

@MarkSmales @SkylightsYRA @YouTube That's the problem with all this; cancelled gigs end up getting condensed and then double booking occurs. I've missed out on at least 5 gigs due to that happening.

Doll

(@Ashley_Silver92) reported

@TomiXX22 @YouTube Yeah that's a problem, and I know how to solve it on Web Browsers. just use the link structure to go to the sub page first. But on phones it sucks.

Cfree108

(@Cfree108) reported

@Minecraft @YouTube @Minecraft I've tweeted at you but I don't know if you'll see it and I need desperate help. My friend has been trying to pay for a realm and it won't open. He pays and it just takes his money away. We need help because he's lost money like four times. Please help us.

Fred Nurk.

(@manfred698) reported

from Ballygalley, Northern Ireland

@davehill_56 @YouTube Awful song.
Check Current Status