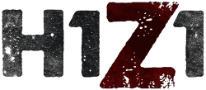 Is H1Z1 down?
No problems detected at H1Z1
If you are having issues, please submit a report below.
H1Z1 is a survival sandbox massively multiplayer online gamepost-apocalyptic MMO in which you must fight for your live against a world overrun by zombies. Developed by Daybreak Game Company and available for Xbox, Playstation and Windows.
H1Z1 problems in the last 24 hours
The following chart shows the number of reports that we have received about H1Z1 by time of day over the past 24 hours. An outage is determined when the number of reports are higher than the baseline, represented by the red line.
At the moment, we haven't detected any problems at H1Z1. Are you experiencing issues or an outage? Leave a message in the comments section!
Most Reported Problems:
Online Play

Game Crash

Sign in

Glitches
H1Z1 Outage Map
The most recent outage reports and issues originated from:
| | | |
| --- | --- | --- |
| Wuppertal | Online Play | |
| Bielefeld | Sign in | |
| Anglet | Game Crash | |
| Remy | Glitches | |
| Hugo | Game Crash | |
| Lausanne | Online Play | |
Full Outage Map
H1Z1 Comments
Tips? Frustrations? Share them here. Useful comments include a description of the problem, city and postal code.
H1Z1 Issues Reports
Latest outage, problems and issue reports in social media:
max

(@hadessmax) reported

@DeadByBHVR 5000 hours thrown away so that you don't fix anything and on top of that you get new perks so that the generator is repaired faster, painful continue like this and you will end up like h1z1!

revert ie

(@LinusMorin4) reported

@DontBame @blooprintgames @H1Z1 well lets hope not but ive seen this happen in the past u dont fix whats not broken

Grizz

(@GrizzOnRust) reported

@Alistair_McF honestly H1Z1 did the same back in the day, now look where the game is... i love rust and want the best for the game but the issue for me isnt the scripters you can kill them, its the blatant hackers who dont get banned cause the anti cheat is so bad

Lethoric

(@Lethoric) reported

@DaybreakHelp When are you going to fix your enhanced security feature so it actually works for everyone?... I have been trying to years, and it still doesn't work. Or add the use of Google's Authenticator tool. Thanks.

Nathon Reyn

(@NathonReyn) reported

@DaybreakHelp is it common for an issue to affect one character on a DCUO profile, but not others? One of my heroes won't load. 🤔

Mozaner

(@Mozaner1) reported

@A0iYT @PUDDIN54102867 The issue is much older and goes much deeper. I don't have enough data about the current gen of consoles. But cheats had been there since PS2 days. It's an issue many people became aware of very recently. But it became mainstream in the BR era. H1Z1 brought cheats from CS.

Ryan Murphy

(@Murphy1up) reported

@jimmywhis Lies, the most asked questions you get is about the shotgun balance on H1Z1. So when are you going to fix it Jimmy? WHEN!?!

Potatostein ✨💙💛🇺🇦💙💛✨

(@Von_Potatostein) reported

@JayGameZ13 Yup it becomes an ethical problem, there is a need for transparency when referencing, credit and/or asking permission is a must IMHO. I just think that it would happen the other way around (H1Z1 copying an image from the fortnite art comm) the response would have different.

JayGameZ

(@JayGameZ13) reported

@Von_Potatostein Yea I see the problem kinda. I think its worth pointing out that credit to the original would have been really appreciated however I'm unsure if this will negatively impact H1Z1 in any way so from that perspective I don't see an issue. But then again I'm unsure. However great job

Hikari

(@HikariZ3N) reported

@Von_Potatostein I'd say it's more inspiration, it's a nod to an already old Zombie survival game, not any problems i'm seeing here unless the people at H1Z1 complain about it

iiEixo

(@ii_eixo) reported

@Xed_fps @Bloodhunt Thats the problem with entry fee ranked implementation.. H1Z1 had way better ranked system where it was about getting wins + getting most kills possible.. so top ranked bracket had to play aggro and race kills.. but yep ranked would fit trios WAY better

✧♦𒆜 JimmyDo age 26 Prince King's Raid✧☆ Queen hug

(@jimmyhieudo) reported

@Thermathule @DaybreakHelp Try @antitecol now to fix your account immediately

Mam_presh〽️♂️

(@MuhammadBnAbdu1) reported

@Thermathule @DaybreakHelp I suggest you dm @TimmHan to fix your account immediately

Kris Hernandez

(@kelefane) reported

@DaybreakHelp I've been locked out of my account due to suspicious activity and your 2 step verification process is unable to process my request for the past 3 days now. I submitted a ticket on Saturday and would really like to get this issue resolved asap please.

Ethan Price

(@Paradox_EP) reported

@hitchariide @AverageJoeWo we need crouch stamina like H1Z1 did and other similar shooters. Crouch spam would lead to slower and slower crouches until the stamina refilled. Best way to fix it imo.

HowTragicM8

(@HowTragicM8) reported

@Bloodhunt Uninstalled the game due to aim assist and being forced to play against PC maybe I'll try it again once those issues are fixed we want Console vs Console not the crap that was given tired of these devs and companies hyping a game up then giving us trash it's H1Z1 all over again..

Gunsway

(@GunswayTV) reported

Here's the unfortunate truth: Escape From Tarkov proved persistent shooters are profitable but the game cannot overcome its own technical issues. A well funded studio will eventually release a competitor and do to BSG what PUBG did to H1Z1.

reset

(@Theonlybigpp) reported

@Bloodhunt Plz tell me that @Arclegger and @BlueOrc have nothing to do with the game. Early release went to poorly due to not have duos, lag and cheaters. Plz don't let it be a repeat of realm royale and H1Z1. Also on steam make it so people have to have at least 50 hours before reviewing

woot

(@wootical) reported

@FortniteGame remove the ******* tanks it ruins no build mode i will switch to h1z1 if you dont fix the issue

Sionide

(@DanSionide) reported

@LegendsNevrrDie @H1Z1CANREVIVE And how do we get access to this server. I've been missing my h1z1 fix for years! Please please please

ubah prince

(@emp51) reported

@bailinski @DaybreakHelp If you didn't get any support from their customer's service i will recommend you to @finkteck his the one that helped me to recover my account in less than 30 minutes his the best in terms of recovery services

cirque acrobat

(@OhSNaPsoN01) reported

@DaybreakGames @DaybreakHelp Ive tried to log in and every time it say to change my password, I can get no further seeing that I've changed my password 10 times already! Not only that, I've been playing DCUO with no issues and now all of a sudden I can't log in... this is getting beyond annoying

George Bailey

(@bailinski) reported

@DaybreakHelp I can't login on Ps5 is something going on? Just stick on this screen…

DyllonKG

(@DyllonKG) reported

@Sstovers I havent done extensive research on these games but nI'mot sure i entirely buy that a broken smg wiped out the player population for the entirety of H1Z1. That...seems like a stretch and correlation instead of causation

Shawn Stover

(@Sstovers) reported

@DyllonKG Another example is H1z1. One of the biggest battle royal games of all time. Released the "Combat update". In the update they came out with a broken SMG, added a broken AK with no recoil, it broke the game. Eventually it died out.

shabby

(@CDzekunskas) reported

@DaybreakHelp what is this game error G15 on Planetside 2. I cannot play my purple soldier because of this.

(Debut soon) Lewd VTuber Yeefi🔞🐍💕

(@Yeefi) reported

@Doomchild_ 7 days has too many zombies unwarrantedly and they run too fast vs lag spike for multiplayer. It's too janky for my heart to handle. H1Z1 you could get a horde and they'd run about close to your speed but never lost energy where as you did. lol

José Sachs

(@Jhewt) reported

@DaybreakGames @DaybreakHelp is there any email you guys have to report security issues with your sites? I can't find any and the support desk is just for game help only.

Blackhawk121

(@Blackhawk1215) reported

@DaybreakGames @DaybreakHelp I cant login to my account and even if i create a new one it keeps telling me Invalid Credentials but i know my account is tehre as i can change the password but i just cant login.

✭遊び人アテム✭

(@BroodingBrody) reported

A year into @NARAKATHEGAME and they still refuse to fix the Chinese VPN issue. Queue times still surpass 5 minutes regularly. The absolute gal you have for your cosmetics pricing is hilarious. Congrats on making H1Z1 2 and killing your game through negligence, I quit.