ITV Outage Map
The map below depicts the most recent cities in the United Kingdom where ITV users have reported problems and outages. If you are experiencing problems with ITV, please submit a report below.
Loading map, please wait...
The heatmap above shows where the most recent user-submitted and social media reports are geographically clustered. The density of these reports is depicted by the color scale as shown below.
ITV users affected: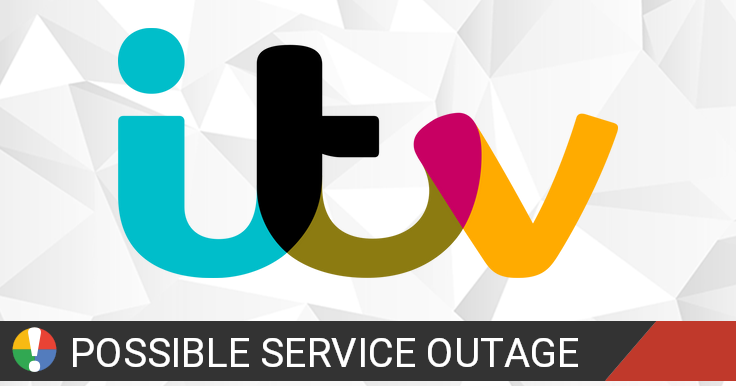 ITV is a commercial TV network in the United Kingdom. Streaming video is available through the ITV website and mobile apps.
Check Current Status
Most Affected Locations
Outage reports and issues in the past 15 days originated from:
| Location | Reports |
| --- | --- |
| London, England | 84 |
| Birmingham, England | 14 |
| Glasgow, Scotland | 14 |
| Bristol, England | 14 |
| Manchester, England | 13 |
| Southampton, England | 13 |
| Croydon, England | 12 |
| Leeds, England | 11 |
| Swindon, England | 10 |
| Plymouth, England | 9 |
| Sheffield, England | 9 |
| Swansea, Wales | 9 |
| Coventry, England | 7 |
| Liverpool, England | 7 |
| Eastbourne, England | 7 |
| Reading, England | 6 |
| Nottingham, England | 6 |
| Colchester, England | 6 |
| Cardiff, Wales | 6 |
| Stockport, England | 6 |
| Fareham, England | 6 |
| Edinburgh, Scotland | 5 |
| Gloucester, England | 5 |
| Aylesbury, England | 5 |
| Clacton-on-Sea, England | 5 |
| Marlborough, England | 5 |
| Retford, England | 5 |
| Kingston upon Hull, England | 5 |
| Saint Leonards-on-Sea, England | 4 |
| Walsall, England | 4 |
Community Discussion
Tips? Frustrations? Share them here. Useful comments include a description of the problem, city and postal code.
Beware of "support numbers" or "recovery" accounts that might be posted below. Make sure to report and downvote those comments. Avoid posting your personal information.
ITV Issues Reports
Latest outage, problems and issue reports in social media:
SoFrolushes 🙏🏾Proverbs 18:10 🙏🏾

(@SoFrolushes) reported

@browniestories @ITV What!!! She mean k1ller white boy. He has no remorse and look at his arrest video terrible

Big_Ticket

(@Big_Ticket) reported

@ITV @itvhub Interesting work!

Maria Strange

(@Maria1724) reported

@TheBBCtv @Wimbledon Please stop switching to iPlayer! Just missed the tiebreaker thanks to this appalling channel jumping. Worst Wimbledon coverage EVER. You should seriously give this to @ITV as they wouldn't run a shambles like this.

🦿RoboCoco Petdetective 🐶

(@The1stCoco) reported

@HardieMh37 @ITV I agree I work in it I know

Emmett J. Scanlan

(@EmmettScanlan) reported

@mammothscreen @kate_katelondon @ITV The Tower II. We're baaaaaaack. Savage team to work for & with.

✌Psychic😱RuMuRrZz✌#JustRude💦

(@rumurrzz) reported

@ITV @BBCOne AT Soz Like To Disaapoint But If Its U Lot On The Tv Audio Line... You Aint Gna Be Getting The Response U Think Ur Getting!!! "Im If SOLO!! **** All Ur Hard Work????? U Aint For Me So **** OFF TOSSERS!!!! Ill Never Change My Mind Cos I Aint A Mug! RAM ALL OF IT!!

lol

(@babymoon32) reported

@ITV is your itv player not working or is it just mine? It's not been working right for about 4 days now:(

Mr Steve and the Cats #SunakOut

(@PixieSteven) reported

from Sacriston, England

@AndrewDLR @GMB @ITV Not a problem with FAIR scrutiny, but how about scrutinising Labour a bit ? Do have a nice day.

BenWayland

(@BenWayland123) reported

@ITV can't watch programs on ITVHub getting an 002 error really annoying now @itvhub @itvhubhelp

Spooky Ooky Kooky

(@CatOfTheLand) reported

@ITV @LoveIsland You have a duty of care for these contestants & are failing if you do not step in. Jacques behaviour towards women, particularly Paige, is abusive & unacceptable, to leave it to go on sends a terrible message. Please do something.

Laura C

(@MyPortfolioMind) reported

@ITV What a shame #macdonaldanddodds had to show a balloon release. Don't you know @BalloonsBlow ? It's a terrible way to memorialise someone.

lol

(@babymoon32) reported

Am I the only one having issues trying to rewatch shows on ITV @itv

_Ben Gregory_

(@bengregs17) reported

Watching the programme on @ITV is just so sad 😔 the parents and boy need putting down. Absolutely awful story and so so sad #Loganmwangi

Antony Clewer

(@BrummyBaggieAC) reported

@thismorning @ITV How do I enter Spin To Win when it keeps saying "You have signed out" When there is no button to sign in?

Sir Richard Bullard

(@richardbullard2) reported

@Tracycccccccc @GMB @ITV If only he was a truthful man, good at his job, cared for the country he's fleecing and had good judgementhe wouldn't need hounding. He's awful.
Check Current Status