Freeview Outage Map
The map below depicts the most recent cities in the United Kingdom where Freeview users have reported problems and outages. If you are experiencing problems with Freeview, please submit a report below.
Loading map, please wait...
The heatmap above shows where the most recent user-submitted and social media reports are geographically clustered. The density of these reports is depicted by the color scale as shown below.
Freeview users affected: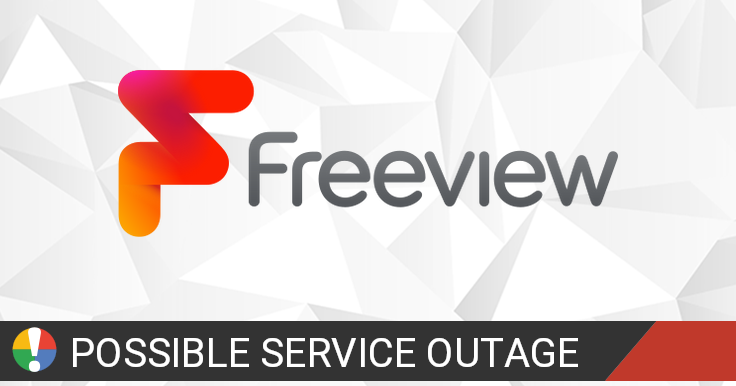 Freeview is the United Kingdom's digital terrestrial television platform. It is operated by DTV Services Ltd, a joint venture between the BBC, ITV, Channel 4, Sky and transmitter operator Arqiva.
Check Current Status
Most Affected Locations
Outage reports and issues in the past 15 days originated from:
| Location | Reports |
| --- | --- |
| London, England | 1103 |
| Swindon, England | 365 |
| Birmingham, England | 206 |
| Southampton, England | 205 |
| Eastbourne, England | 135 |
| Poole, England | 131 |
| Bristol, England | 123 |
| Reading, England | 119 |
| Bournemouth, England | 115 |
| Manchester, England | 114 |
| Plymouth, England | 108 |
| Aylesbury, England | 103 |
| Banbury, England | 102 |
| Northampton, England | 100 |
| Croydon, England | 94 |
| Horsham, England | 92 |
| Peterborough, England | 90 |
| Glasgow, Scotland | 85 |
| Portsmouth, England | 83 |
| Dorchester, England | 78 |
| Milton Keynes, England | 77 |
| Royal Tunbridge Wells, England | 76 |
| Cambridge, England | 73 |
| Saint Leonards-on-Sea, England | 70 |
| Exeter, England | 69 |
| Leicester, England | 66 |
| Newton Abbot, England | 65 |
| Nottingham, England | 62 |
| Edinburgh, Scotland | 62 |
| Worcester, England | 60 |
Community Discussion
Tips? Frustrations? Share them here. Useful comments include a description of the problem, city and postal code.
Beware of "support numbers" or "recovery" accounts that might be posted below. Make sure to report and downvote those comments. Avoid posting your personal information.
Freeview Issues Reports
Latest outage, problems and issue reports in social media:
Liam Jones

(@LiamJones396) reported

On my holiday freeview experience, watching Taskmaster. UK TV isn't doomed, good ****

June Taylor

(@juneandnoz) reported

@scott_steve It is important. But if you don't want to watch it Freeview and Sky are doing other stuff. So change channels. Not a problem

Lyeekha

(@LY33KH4) reported

my freeview doesnt have good enough signal strength for non-bbc channels aarrurghhghghbgh

nick gibbons

(@nickthegibbons) reported

@SimonMcCoyTV Aww feel sorry for you, cos I have 300 plus channels on freeview, so got plenty of choice, and Netflix and amazon prime so not really a problem for me...

Abbie Sims 👩🏼‍🦯

(@xAbbierose) reported

Anyone else unable to get 4seven on freeview? Says service unavailable but is working on freesat 🤔

Kyri

(@KKMUFC2020) reported

@Wheely73 @bendirs1 Of course...if you have sky or wherever. I read somewhere that the majority of homes in UK don't even have freeview, never mind sky/cable. What about those folks?

Harriet Austin

(@harriet_austin) reported

@btbusinesscare as a new customer very disappointed with the customer service I have been receiving. Following a 2 weeks wait to receive WiFi and broadband, Freeview channels do not work despite reassurance it would with the WiFi connected. When we called the...1/2

Omie

(@OmieAKA) reported

@Darrenjs68 @BBCNews Yes. Its almost like all those hundreds of other channels on yr Sky box or Freeview service don't exist.

ⓦⒶⓃⓨⓔ the cotton headed ninnymuggins

(@spazhammer) reported

... plus I get to watch the home highlights/finest TV available (plus some garbage/filler I still enjoy!) Instead of watching what's available on virgin/sky/Freeview, I get to choose whatever when I want. I don't get why others haven't. Other than technical skills/knowledge

Stuart Cashmore

(@watford1881) reported

Why is Hive Live Match Live Tab not working @WatfordFC Only Freeview tab is available I've secured my seat so I can watch @davem2612

Alistair the Unproductive

(@AlistairMay) reported

@oashton88 @FinishedZine BBC is a subscription service too. But there's a host of other channels on freeview.

Maz

(@Emwold1) reported

@peter4buckley I hardly ever watch TV, just Gogglebox or the odd rare temptation, so never bothered with more than Freeview. I prefer reading, with the radio on. But not today...

Phil's Retro Life #retro

(@FactsStomp) reported

@trianabutler @cleanfeed_ttvr @ITV I didn't se it but that was my first thought. I bet it looked atrocious on the SD Freeview service and ultra low definition on the +1 channel.

Andrew Morris

(@andyjmorris) reported

@kevinsteergram @BBCTwo @sky We've had this problem for a few days too on Freeview. Also in Wales.

Claire Menzies

(@Adjie16077) reported

@Ofcom Fed Up with watching TV full of rubbish to many reality TV and full of too many daily repeats. Freeview lies about new series that are just moved repeated on different channels. When are we going to receive good news every day instead of constant bad news?
Check Current Status