NatWest Outage Map
The map below depicts the most recent cities in the United Kingdom where NatWest users have reported problems and outages. If you are experiencing problems with NatWest, please submit a report below.
Loading map, please wait...
The heatmap above shows where the most recent user-submitted and social media reports are geographically clustered. The density of these reports is depicted by the color scale as shown below.
NatWest users affected: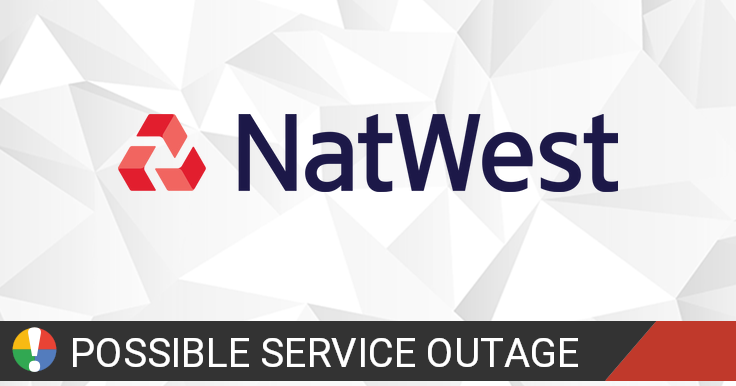 National Westminster Bank, commonly known as NatWest, is a major retail and commercial bank in the United Kingdom. NatWest offers current accounts, savings, investments, loans, credit cards and other financial products.
Check Current Status
Most Affected Locations
Outage reports and issues in the past 15 days originated from:
| Location | Reports |
| --- | --- |
| London, England | 17 |
| Manchester, England | 6 |
| Cardiff, Wales | 3 |
| Coventry, England | 3 |
| Birmingham, England | 3 |
| Liverpool, England | 2 |
| Chester, England | 2 |
| Pontefract, England | 2 |
| Milton Keynes, England | 2 |
| Portsmouth, England | 2 |
| Rugby, England | 2 |
| Buxton, England | 1 |
| Dursley, England | 1 |
| Oldham, England | 1 |
| Harlow, England | 1 |
| Nottingham, England | 1 |
| Bonnyrigg, Scotland | 1 |
| Alexandria, Scotland | 1 |
| Bristol, England | 1 |
| St Helens, England | 1 |
| Newry, Northern Ireland | 1 |
| Grimsby, England | 1 |
| Weybridge, England | 1 |
| Deal, England | 1 |
| Horncastle, England | 1 |
| Bromley, England | 1 |
| Stourbridge, England | 1 |
| Southport, England | 1 |
| Maidstone, England | 1 |
| Camborne, England | 1 |
Community Discussion
Tips? Frustrations? Share them here. Useful comments include a description of the problem, city and postal code.
Beware of "support numbers" or "recovery" accounts that might be posted below. Make sure to report and downvote those comments. Avoid posting your personal information.
NatWest Issues Reports
Latest outage, problems and issue reports in social media:
Jay B

(@jillianburtonuk) reported

@NatWestBusiness @Slacky4 @NatWest Mine is down too

Samantha Norris

(@SammySnailer) reported

Is NatWest down? @NatWest_Help

🌗 プラネットマジック 🎶

(@nf3xn) reported

You're doing a terrible job. All of you. Go home hang your heads in shame but especially natwest security absolute garbage anti-patterns. Site is unusable and it's not even down.

Jasmine the European Cat

(@JeanneBartram) reported

@NatWest_Help And the biggest Scammer is NATWEST. Where they go to extraordinary measures to prevent you speaking to a person. The Robot Cora cannot deal with what I want and is clueless both online and on the telephone. The Branches have all closed down. - I cannot get hold of a

Nicoleta Uzorka-Ion

(@nicolei7) reported

@Wheeliewitty @NatWest_Help Same problem for me 😢. #natwest app seems to be down at the moment.

Claire Worthington - Ranty McRantface She/Her

(@WorthyOnTheWeb) reported

Luckily due to the location and time of day I could "limp" to the Asda one. Any other location or later in the day I would have been screwed. I'd have broken down on the M60 because Natwest are allowed to pull these stunts.

Lloyd Williams

(@lloyd87655) reported

@NatWest_Help hi trying to re log into my account due to being locked out. But NatWest won't send out a text to me! Is your systems down?

Chris Ⓥ

(@Chris_Adams84) reported

@NatWest_Help @sophb66 Sorry to jump on this thread, but I'm in the same position with my mortgage! I was told by NatWest on the phone on Friday that I am unable to access an account online with NatWest as it came from Metro Bank, and that my only way to manage it is by phone. Is that not the case?

Emma Louise Delaney 🧙🏻‍♀️

(@Emma_LouiseMSD) reported

Anyone else having problems accessing the NatWest app this morning? #natwest

NatWest

(@NatWest_Help) reported

@res_crypto Hi there! I can confirm that you shouldn't have an issue withdrawing funds into your Natwest account. If you have any issues withdrawing please contact Binance and they should be able to have a look into this for you and get it resolved. - Tomás

soph v. 4959

(@sophb66) reported

@MetroBank_Help can someone find out for me how your main man Mr Pumpkin selected just 1/3 mortgages to sell to NatWest and by "chance" one of them was mine? Wanting to be rid of a nuisance customer?……dodgy as hell

Dr Una McCormack

(@unamccormack) reported

Wandered round town like a headless chicken yesterday trying to find where the two closed NatWest banks had relocated to, and walked down every street except the right one, dammit.

Kitsons Pharmacy

(@KitsonsPharmacy) reported

Our Flu Jab service is still running! We have had many enquiries - we are still here and can be accessed via the main route down from The Cross/High Street (opposite Natwest). For any queries on reaching us, please contact us on 01905 22861. (2/2)

Cal

(@CalElcombe) reported

I love it when NatWest send me my statement, you folks think I'm reading this ****? I make investments and pay bills on payday, and then it's a free for all the rest of the month, let the booze and destruction commence!

eccles kipper

(@EcclesKipper) reported

@MaajidNawaz BlackRock - recently 'took over' my NatWest investments. Finance Capitalism needs to be regulated or opened up to scrutiny to make sure it is working in the nations interest.
Check Current Status