Nationwide Outage Map
The map below depicts the most recent cities in the United Kingdom where Nationwide users have reported problems and outages. If you are experiencing problems with Nationwide, please submit a report below.
Loading map, please wait...
The heatmap above shows where the most recent user-submitted and social media reports are geographically clustered. The density of these reports is depicted by the color scale as shown below.
Nationwide users affected: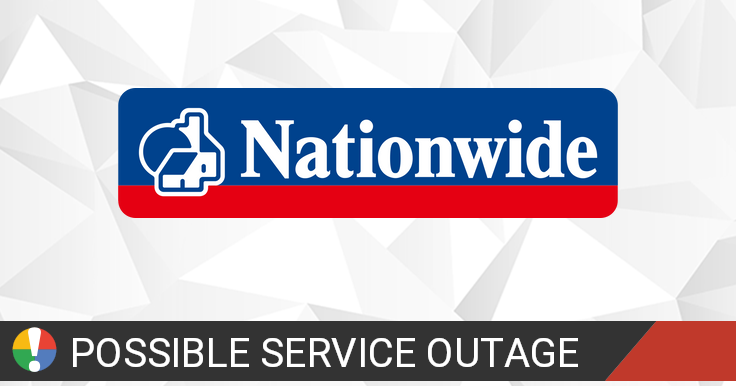 Nationwide Building Society is a British mutual financial institution. Its headquarters are in Swindon, England. Nationwide offers current accounts, savings, investments, loans, credit cards and other financial products.
Check Current Status
Most Affected Locations
Outage reports and issues in the past 15 days originated from:
| Location | Reports |
| --- | --- |
| London, England | 16 |
| Birmingham, England | 5 |
| Nottingham, England | 4 |
| Liverpool, England | 4 |
| Coventry, England | 3 |
| Bromley, England | 3 |
| Edinburgh, Scotland | 3 |
| Portsmouth, England | 2 |
| Sheffield, England | 2 |
| Lockerbie, Scotland | 2 |
| Stoke-on-Trent, England | 2 |
| Exeter, England | 2 |
| Canterbury, England | 2 |
| Woking, England | 2 |
| Wolverhampton, England | 2 |
| Swindon, England | 2 |
| Islington, England | 2 |
| Croydon, England | 2 |
| Glasgow, Scotland | 2 |
| High Wycombe, England | 2 |
| Enfield Town, England | 2 |
| Peterborough, England | 2 |
| Nuneaton, England | 2 |
| Christchurch, England | 2 |
| Eastbourne, England | 2 |
| Bournemouth, England | 2 |
| Hendon, England | 1 |
| Uckfield, England | 1 |
| Chester, England | 1 |
| Mitcham, England | 1 |
Community Discussion
Tips? Frustrations? Share them here. Useful comments include a description of the problem, city and postal code.
Beware of "support numbers" or "recovery" accounts that might be posted below. Make sure to report and downvote those comments. Avoid posting your personal information.
Nationwide Issues Reports
Latest outage, problems and issue reports in social media:
Mike Carroll-Owen

(@mco1986) reported

@AskNationwide is there any issues with systems this evening - usually receive a regular payment into account 2 Tuesdays a month but today nothing at all and it's usually there between 12:10 - 12:30am

Cherico

(@Cherico_L) reported

Huge lesson learnt - NEVER trust European break down cover via a bank. We pay for cover with @LVviews via @AskNationwide - broke down FRIDAY in France - waited 5 days and have just been told it could be 3 WEEKS before our car is now sorted. It's a broken hose!

HD

(@Pumpkinbundle) reported

@AskNationwide What days will Worthing service the ATM please? Customers obviously need to know when funds will be available.

Eleanor #NotMyPM

(@albaugh_er) reported

@AskNationwide Finally got through after 15 mins on the phone. #Accessibility info doesn't appear important to you as once again told to 'pop to a branch' to sort out the issue. I'm on the phone bc I can't pop anywhere. Raised previous complaint but issue not noted on my record.

gavin Mckerrell

(@gavin_mckerrell) reported

@AskNationwide Where do I find my customer number?

Simon Pike

(@ekipnomis) reported

@AskNationwide It doesn't look like they're publicising any issues. Any advice? I need to be able to make this payment by tomorrow.

Simon Taylor

(@simonjjtaylor) reported

@AskNationwide Emailed asking me to call, didn't call me, phones said 5 min wait, 15 mins of awful jazz later put thru to someone not trained to deal with option I selected....back in queue... 22 mins...your query was your internal processes, nothing I needed to know as cmr at all. Appalling

James Turner

(@JamesTu21286596) reported

@AskNationwide Absolutely nothing honestly having horrible time last few day's with nationwide and the inflexibility to help members. Other banks doing everything possible yet nationwide sadly no.

Amy Lou Who

(@AmyLu4) reported

@AskNationwide I can't log into my banking app or online banking, it's saying there are technical difficulties, despite your web saying everything's working normally. #help

Eleanor #NotMyPM

(@albaugh_er) reported

Waited on phone line for 6 mins and now cut off by your operative. You tell me to go online but the issue can't be sorted online. @AskNationwide 24/7 phone lines meant no help yesterday at all for online banking that you have blocked. 👎🏼

Steff Prescott🌹#GTTO 🌹 #PMDD #PMDDpeeps #1in20

(@steff_presc) reported

@AskNationwide Hi I'm having issues opening up a youth acc for my 16 yr old. The site says "not able to open an account at this time click to see other ways" it's been this way for some time now. My daughter needs an account for a bursary, I don't want to go to another company

Zana

(@n00byz) reported

@AskNationwide what is going on? I've been on the phone over 2 hours trying to sort out my mortgage and keep getting cut off. I need help 😱

David Jackson

(@DavidJa25543601) reported

@AskNationwide Hello. I am moving house and can't find information telling me how to notify you of this. Can you help please

AbbyLouisa

(@abbylouisaevans) reported

@AskNationwide is there a known issue with trying to transfer money to a new person at the moment? App keeps kicking me out 😭

OftenPure

(@oftenpure) reported

@AskNationwide I paid a website to help me find a driving test slot earlier but I found one on my own and now I don't need them so I asked for a refund but they won't give me it.
Check Current Status