Santander Outage Map
The map below depicts the most recent cities in the United Kingdom where Santander users have reported problems and outages. If you are experiencing problems with Santander, please submit a report below.
Loading map, please wait...
The heatmap above shows where the most recent user-submitted and social media reports are geographically clustered. The density of these reports is depicted by the color scale as shown below.
Santander users affected: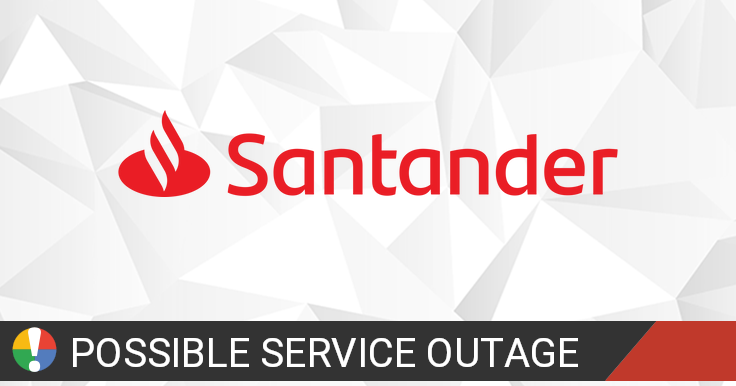 Santander UK plc is a British bank, wholly owned by the Spanish Santander Group. Santander offers current accounts, savings, investments, loans, credit cards and other financial products.
Check Current Status
Most Affected Locations
Outage reports and issues in the past 15 days originated from:
| Location | Reports |
| --- | --- |
| London, England | 31 |
| Manchester, England | 13 |
| Nottingham, England | 9 |
| Birmingham, England | 7 |
| Liverpool, England | 6 |
| Glasgow, Scotland | 6 |
| Blackwood, Wales | 6 |
| Reading, England | 6 |
| Leeds, England | 5 |
| Bristol, England | 4 |
| Bradford, England | 4 |
| Sheffield, England | 4 |
| Preston, England | 4 |
| Plymouth, England | 4 |
| Stockton-on-Tees, England | 4 |
| Wigan, England | 4 |
| Milton Keynes, England | 3 |
| Norwich, England | 3 |
| Cardiff, Wales | 3 |
| Oldham, England | 3 |
| Mansfield, England | 3 |
| Newcastle upon Tyne, England | 3 |
| Southampton, England | 3 |
| Middlesbrough, England | 2 |
| Wakefield, England | 2 |
| Stockport, England | 2 |
| Walsall, England | 2 |
| Poole, England | 2 |
| Edgware, England | 2 |
| Ipswich, England | 2 |
Community Discussion
Tips? Frustrations? Share them here. Useful comments include a description of the problem, city and postal code.
Beware of "support numbers" or "recovery" accounts that might be posted below. Make sure to report and downvote those comments. Avoid posting your personal information.
Santander Issues Reports
Latest outage, problems and issue reports in social media:
Christopher Armes 🎢

(@armesie) reported

@TicketmasterCS I've upgraded my #clashatthecastle tickets and requested a refund on the original tickets. However, since buying the original tickets I've changed bank and my original bank is shut down. I've spoken with @santanderuk and they've said the money will be…

Sir Hobby of Herts

(@THE_SIR_HOBBY) reported

@santanderuk Your customer service is a joke!! Been on hold for 35 minutes and then put through to just a ringing phone for another 10 minutes!! PICK UP THE PHONE NOW!!

Sam Roots

(@samgroots) reported

Wow, ok @santanderuk seems to be giving a case study in bad user experience. I'm applying for a credit card. For context, I have an AmEx which I always pay off. I'm that kind of user. 1) Fill in a long form on the Santander website (address, income, etc) to apply.

Mark Alder

(@stillinnocent) reported

@santanderuk customer service is dire. First my mother's account access blocked and now mine because the fraud team think transferring money to external savings accounts with reputable financial institutions is strange! Been on the phone all afternoon in various queues. Fuming

Jamie

(@Jamie98204204) reported

@santanderukhelp @santanderuk can you fix your cash point in Harrogate please. I wanted to pay in a cheque.

Charlotte Lombardi-Whitehouse (she/her)

(@lombardi_est87) reported

@santanderuk I have a personal loan with Santander I want to pay back. How do I log in to view the details as I don't bank with Santander?

miss wisdom 🌹

(@SSummer17) reported

@santanderuk is the Santander online app down as I can't access it?

Chris Garlick

(@ChrisGarlick20) reported

Been trying to set a new DD up for 1 week now using online banking with @santanderuk and continue to receive error messages. New customer. Not impressed with poor systems so far. #disappointed

Craig Butcher

(@craigbutcher) reported

And to top it off, @santanderuk's interface hasn't changed for many years resulting in cognitive issues of what I need to be doing. Looks like I'm going to move elsewhere. I cannot handle the stress of this.

Dave Clarke

(@djeclarke) reported

What a CRAP switching service with @santanderuk just don't do it, stay with your own bank!

rob stewart

(@robchrisstewart) reported

@santanderuk 30 minutes on hold then the call is cut off. Piss porr service to say the least

Peter Lucas

(@PeterSLucas) reported

@chocbuttons2 @santanderuk I think there's been a massive text attack from fraudsters on Santander customers. My wife eventually got through; she had texts (which showed real transactions) then phone calls both to landline and mobile. Serious **** here. Don't respond.

Militant Lambchop ✊🏼💙 NHS ✊🏼❤️ BLM #StaySafe

(@CurlyClareToo) reported

@David__Osland @punyvikinglass I was scammed months ago and locked my bank account. The temp passwords sent by @santanderuk won't get me into my online account but had to give up after waiting hours to speak to a human. I need access soon though. #NotEnoughHumans

colin hay

(@ColdoHay) reported

@santanderuk any chance someone from customer service could pick up the phone, been on hold for nearly 2 hours now

SDAA

(@EstebanMasters) reported

@santanderuk your telephones lines are having an issue. When I call to cancel my card, instead of going to "on hold" music, it just starts a monotonous ringing, nobody ever answers.
Check Current Status