TalkTalk Outage Map
The map below depicts the most recent cities in the United Kingdom where TalkTalk users have reported problems and outages. If you are experiencing problems with TalkTalk, please submit a report below.
Loading map, please wait...
The heatmap above shows where the most recent user-submitted and social media reports are geographically clustered. The density of these reports is depicted by the color scale as shown below.
TalkTalk users affected: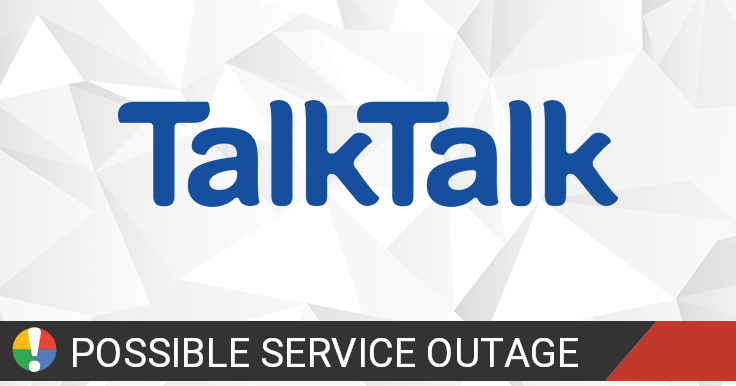 TalkTalk offers broadband internet (ADSL), television (IPTV) and home service. TalkTalk also offers mobile phone and mobile internet service as mobile virtual network operator using the Vodafone wireless network.
Check Current Status
Most Affected Locations
Outage reports and issues in the past 15 days originated from:
| Location | Reports |
| --- | --- |
| London, England | 1041 |
| Manchester, England | 230 |
| Birmingham, England | 212 |
| Leeds, England | 172 |
| Southampton, England | 120 |
| Croydon, England | 118 |
| Edinburgh, Scotland | 94 |
| Glasgow, Scotland | 66 |
| Liverpool, England | 63 |
| Leyland, England | 55 |
| Bermondsey, England | 47 |
| City of Westminster, England | 42 |
| Bushey, England | 37 |
| Nottingham, England | 36 |
| Portsmouth, England | 36 |
| Milton Keynes, England | 35 |
| Bristol, England | 32 |
| Slough, England | 32 |
| Salford, England | 31 |
| Cardiff, Wales | 30 |
| Paddington, England | 29 |
| Sheffield, England | 28 |
| Gillingham, England | 28 |
| Bolton, England | 28 |
| Reading, England | 27 |
| Dagenham, England | 26 |
| Bradford, England | 26 |
| Leicester, England | 26 |
| Newcastle upon Tyne, England | 25 |
| Coventry, England | 25 |
Community Discussion
Tips? Frustrations? Share them here. Useful comments include a description of the problem, city and postal code.
Beware of "support numbers" or "recovery" accounts that might be posted below. Make sure to report and downvote those comments. Avoid posting your personal information.
TalkTalk Issues Reports
Latest outage, problems and issue reports in social media:
Chris Wilber

(@cjwilber) reported

@TalkTalk I've been waiting for an hour on chat for your technical support. I think I'm going to be cancelling this. Glad I've found out how bad you are now while I am still in the cancellation period.

damian rock 1978

(@mrkennysenior) reported

@TalkTalk Our broadband has dropped for last hour … do you have any issues in the Bromley area BR27EY?

michela brennan

(@miccybb) reported

@TalkTalk @TalkTalkGroup your bereavement customer service team are a joke! The only utility I have struggled with whilst dealing with my mothers passing. Insensitive fools

Edward Moody

(@MrEMoody) reported

@TalkTalk really unhappy with the service I am getting from @TalkTalk at the moment. Upgraded to future fibre last week which stopped working and after an hour on chat with customer services you said you would send a new router which I have had no confirmation of and not arrived

certified side ***** secret

(@maybekelseyy) reported

Bro sky broadband is dangerously close to talktalk, this **** stinks

Martin Smith

(@Mws179Smithvert) reported

@TalkTalk complaints dept please contact me... your are well hidden, do you actually exist?... your other depts can't get you for me.. DM me please I am an unhappy customer.. I wish to officially complain regards my order handling ... poor..poor...poor

Karennn

(@karenyoung19) reported

@TalkTalk My internet has been down since this morning, I have reset and turned off and still nothing. Is there a problem with the system at the moment???? It's been down for 4 hrs now

James Haylett

(@LordBalkanYm) reported

@TalkTalk Three periods of Internet dropping this morning. Now without for an hour. Called your Cs line, had a brusque member of staff say they couldn't take my call due to an outage affecting them. If an outage is going to be effecting customers, let them know! Not even a tweet on here.

Gaskyns Wholefoods

(@Gaskyns) reported

@Gordon4421 @TalkTalk I have been trying to get my service moved to my new address since early July!!!!!

Ally

(@Allyk1974) reported

@TalkTalk Morning, Internet in LS13 is down, your website is down too so can't do any checks!?

Paul

(@Duffield8) reported

@miccybb @TalkTalk @TalkTalkGroup Their whole service department just read from scripts and are robotic , they have no common sense . They have no feelings . I am sorry for your loss , at this time things should be made simple not harder . Avoid talk talk

Jason Williams

(@jaywilliams59a) reported

@RhianTurner @TalkTalk @TalkTalkGroup Cant believe its this hard to get someone to resolve our issue

Paul

(@Duffield8) reported

@TalkTalk Ian just sort the problem out , all the info is on the Dm . We cancelled may and are still being asked for money , and when the customer service team who are paid to help just ignore and lie to you theres no hope . I just want you to get talk talk to stop contacting us .

john fletcher

(@smoothula1) reported

@TalkTalk Unable to reach you by DM so will send an email to "concerns at…."I am so fed up with your terrible internet service and my inability to contact a human being.

Gaskyns Wholefoods

(@Gaskyns) reported

@Duffield8 @TalkTalk Completely agree. I am moving house. They messed it up cancelled my move without telling me and now I just get passed from one department to another. 2 hours on the phone this morning before being cut off and 2 hours on chats getting no where. They don't give a damn!!!
Check Current Status