Sky Outage Map
The map below depicts the most recent cities in the United Kingdom where Sky users have reported problems and outages. If you are experiencing problems with Sky, please submit a report below.
Loading map, please wait...
The heatmap above shows where the most recent user-submitted and social media reports are geographically clustered. The density of these reports is depicted by the color scale as shown below.
Sky users affected: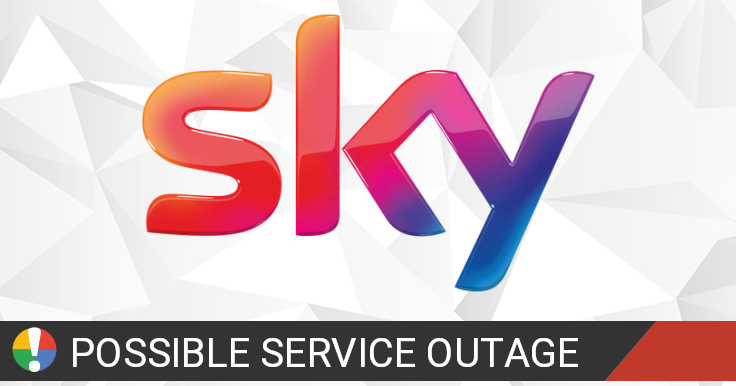 Sky offers satellite television service as well as broadband internet and home phone service. Sky also operates a pay-TV service, including the Sky Sports channel which broadcasts Premier League games, which are also availble on the Sky Go video streaming service.
Check Current Status
Most Affected Locations
Outage reports and issues in the past 15 days originated from:
| Location | Reports |
| --- | --- |
| London, England | 1931 |
| Birmingham, England | 387 |
| Croydon, England | 346 |
| Manchester, England | 268 |
| Edinburgh, Scotland | 234 |
| Leeds, England | 232 |
| Dublin, Leinster | 224 |
| Glasgow, Scotland | 222 |
| Leyland, England | 143 |
| Bermondsey, England | 128 |
| Holborn, England | 126 |
| Bushey, England | 113 |
| City of Westminster, England | 98 |
| Liverpool, England | 98 |
| Southampton, England | 91 |
| Bristol, England | 76 |
| Sheffield, England | 75 |
| Dagenham, England | 69 |
| Cardiff, Wales | 68 |
| Slough, England | 67 |
| Paddington, England | 66 |
| Hackney, England | 65 |
| Nottingham, England | 62 |
| Hampstead, England | 58 |
| Portsmouth, England | 53 |
| Stoke-on-Trent, England | 50 |
| Salford, England | 48 |
| Coventry, England | 47 |
| Watford, England | 45 |
| Reading, England | 43 |
Community Discussion
Tips? Frustrations? Share them here. Useful comments include a description of the problem, city and postal code.
Beware of "support numbers" or "recovery" accounts that might be posted below. Make sure to report and downvote those comments. Avoid posting your personal information.
Sky Issues Reports
Latest outage, problems and issue reports in social media:
Andy Lincoln

(@lincoln_andy) reported

@SkyHelpTeam Can have your address to return working equipment to please - want the refund processed ASAP as sky is to blame for the charges - no one replied to my complaint

Silvio Tattisconie ©💎

(@STattisconie) reported

@GitGrumpygit @SkyUK Had a blip when it went down last night a reboot sorted it.

Sundeep Singh

(@19suni89) reported

@SkyHelpTeam I'm well thank you. I can't check for outages in my area as the website is down or has an error message

🏎

(@f1clare) reported

@SkyHelpTeam what's going on with sky ? tv keeps loosing signal and no broadband?

Valyrian

(@thfcValyrian) reported

@Awwalbello6 @Haroooon17 @SkySports He's been at Spurs for a year. That's not enough time for any manager to fully instill their philosophy. So I think you're a bit too reactionary or maybe you're hoping for him to fail so you'll feel better at your club's decision to sack him. Your narrative is too forced.

MFC1985

(@millwallkerk) reported

@SkyHelpTeam @NeilBosher And just how has it been resolved? I mean going down in one area due to weather can be understood. But the whole country being affected? How and what happened?

ᑎIᙅᕼ ᔕTᗩᖇᒪIᑎᘜ 🌹🇪🇺

(@NichStarling) reported

@SkyHelpTeam So it wasn't a firmware issue?

esther

(@esther88876910) reported

@deanhoadley @LPodengo @SkyHelpTeam if the parent is working from home in a conference. i can assure you that having the internet for them available is the beta solution 🙄🖐🏾

Flamexxx

(@Lacoeur2012) reported

@SkyHelpTeam Mine was restored yesterday evening thankfully, I hope the service will continue and I do not have further issues. 😬

Jenna Schillaci

(@JennaSchillaci) reported

@SkyUK has been down for 24 hours now. Have tried all connection tests on website and can't get through to speak to anyone at sky. Hellllp- not ideal while isolating 😭🙏🏽😭 #skybroadbanddown #sky

Simon Dennis

(@sjdhatters) reported

from Stoke Mandeville, England

@SkyHelpTeam It gets better. Offered to sign me up to new 18mth contract. Reduce bill £25 a month. Free Nokia mobile and SIM. Cheap Sky Broadband. New TV channels. The works. Why did I phone? To upgrade my box. You have done everything except help with my query. It's staggering

Teresa

(@Teresab1977) reported

@SkyHelpTeam Pretty sure I've just told you. It's a software problem and sky haven't came up with a new release yet. It's a known issue which you should probably know about being the sky help team. My speed constantly drops to below 20.

Viv Roberts

(@VivRoberts3) reported

@SkyHelpTeam no broadband since 7/12, 3 visits by engineers, & still not resolved. Sad lack of comms/updates throughout, now can't get through by phone. Appalling service, with a proverbial gathering of sky employees looking into a void scratching their arses & passing the buck.

Simon Dennis

(@sjdhatters) reported

from Stoke Mandeville, England

@SkyUK could really take a leaf out of @amazon from Customer Service perspective. Just been told I can leave Sky for 12 months then sign up again to upgrade rather than help a customer of 20 years. It's incredible. Even offered me a free mobile and SIM! I don't want a free phone!

Sarabelle

(@SaraFazerelli) reported

@SkyHelpTeam Not having problems right now thanks ... but it's likely to happen later!
Check Current Status