Virgin Media Outage Map
The map below depicts the most recent cities in the United Kingdom where Virgin Media users have reported problems and outages. If you are experiencing problems with Virgin Media, please submit a report below.
Loading map, please wait...
The heatmap above shows where the most recent user-submitted and social media reports are geographically clustered. The density of these reports is depicted by the color scale as shown below.
Virgin Media users affected: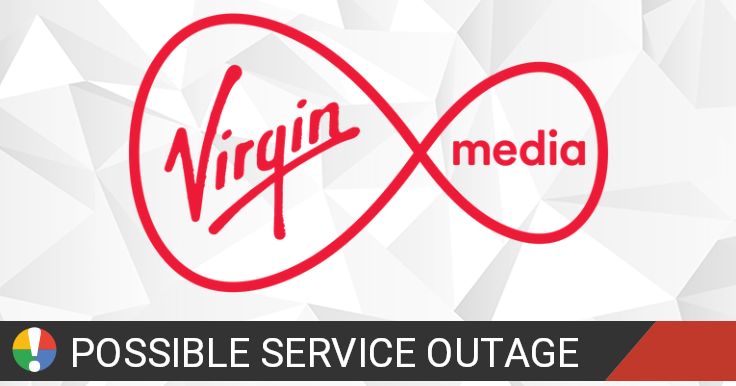 Virgin Media offers mobile phone, television, broadband internet and phone service over the cable network. Virgin Media is part of NTL:Telewest. Virgin's mobile service is available under the Virgin Mobile brand, which operates as a mobile virtual network operator using the T-Mobile and Orange networks.
Check Current Status
Most Affected Locations
Outage reports and issues in the past 15 days originated from:
| Location | Reports |
| --- | --- |
| London, England | 2356 |
| Birmingham, England | 576 |
| Croydon, England | 306 |
| Manchester, England | 290 |
| Leeds, England | 240 |
| Edinburgh, Scotland | 238 |
| Glasgow, Scotland | 181 |
| Leyland, England | 159 |
| Dublin, Leinster | 141 |
| City of Westminster, England | 107 |
| Bushey, England | 101 |
| Bermondsey, England | 91 |
| Harlow, England | 91 |
| Nottingham, England | 90 |
| Paddington, England | 82 |
| Liverpool, England | 81 |
| Leicester, England | 79 |
| Southampton, England | 78 |
| Bristol, England | 76 |
| Walsall, England | 73 |
| Portsmouth, England | 68 |
| Plymouth, England | 67 |
| Wolverhampton, England | 63 |
| Dagenham, England | 60 |
| Coventry, England | 58 |
| Cardiff, Wales | 57 |
| Bolton, England | 57 |
| Slough, England | 56 |
| Derby, England | 54 |
| Brighton, England | 51 |
Community Discussion
Tips? Frustrations? Share them here. Useful comments include a description of the problem, city and postal code.
Beware of "support numbers" or "recovery" accounts that might be posted below. Make sure to report and downvote those comments. Avoid posting your personal information.
Virgin Media Issues Reports
Latest outage, problems and issue reports in social media:
Alex Bray

(@AlexBra16258759) reported

@virginmedia Today is just as bad! If it's planned maintenance, where are you never communicating I'm advance? Can't be too hard to send an email in advance to those in the area potential being affected right? Rather then waking up one day to issues!

Ned Steele

(@nedular) reported

@virginmedia working from home on critical issues and internet goes down. This service is causing too much of a headache!!!!!!! Sort it out!!!!!!!!!!!!!!!!!!!!!!!

James Rabbett

(@JamesRabbett) reported

@virginmedia Advisor I spoke with in December said our internet usage was pretty low...probably because we're having to tether to mobile phones most of the time. She said she would get an engineer to look into our service and equipment. Turning the router on/off or unplugging it constantly..

Sujenthar T

(@suthan_t) reported

@virginmedia as an existing customer why can't I have the same package/price as new customers? You've sent a letter so say prices going up and I can cancel but if I do I can't sign up as a new customer. Makes no sense. Your CS team are awful, read off a script

Donna Galbraith

(@DonnaGalbraith6) reported

@virginmedia have phoned 150 on numerous occasions to no avail, WiFi connection keeps dropping out, or go days without WiFi, used up most of my phone data! Can't stream Netflix, can't watch on demand as v6 box requires WiFi! Shocking service from Virgin for the price you charge

Fiona Craig

(@FionaCraig15) reported

@virginmedia Hello, I cannot get through to customer services, however I have carried out all the checks advised online and by the virgin app which advises I need a booster. This has been ongoing for at least 7 months. All I request is a booster to be sent out

Matthew

(@Matthew99029297) reported

@virginmedia Since Wednesday at 9am, there are thousands of us in the UB postcode area without the ability to work from home, without any meaningful update and this is just the final nail in the coffin. Your service has been intermittent at best for nearly a year, now we have nothing.

Donna Galbraith

(@DonnaGalbraith6) reported

@virginmedia so you can call me to see if I want to upgrade my phone however can't sort my issue with the WiFi or the fact you charged me for Sky sports for 6 months although no sports were happening due to Covid! No way of cancelling or putting on hold so had to pay for it. Thx

Linda

(@grannyfan) reported

@virginmedia Thanks for asking - was not your company I was dealing with! The staff were clearly mischivous and told me they'd removed the tag when they hadnt and said my new company couldn't connect me because of the 'ghost'. Feel free to tweet my complaint wasnt with you.

zach close

(@Zachclose2000) reported

Now you ingoring your customers talking about being rude @virginmedia

Ibrahim Syed

(@IksyedTech) reported

@virginmedia @Matthew99029297 No @virginmedia the exact same thing is happening to me and everyone wants to know the real estimated time the WiFi will be back up stop directing us to the service status because that just keeps changing.

Barry Dennis

(@barrysbismark) reported

Virgin Media, con merchants, received letter about price increase with 2 contact points to cancel, both unattainable

Arti

(@x_Aarti_x) reported

@virginmedia @DeepSpaceMark Can we get a realistic update, the constantly changing estimate fix time is a real joke now. Everyone's working from home, we don't have the option of leaving our houses to get internet elsewhere!! it's been 3 days!!! 😠

Loulou23x

(@loulou23xx) reported

@virginmedia your hold times are ridiculous & if lucky enough to get through to someone, they hang up!! Trying to get back through is ridiculous as you sporadically close your phone lines. When I did finally get back through I was promised a call back and I'm still waiting! Help?

Paul Bullock

(@PaulAnthonyGym) reported

@virginmedia Part 1. advice. What should I do if I have for the last 6 months received inadequate poor internet service (paying full price every month. Called countless times to have the problem be fixed for just 20 days the start again? Getting sometimes....
Check Current Status